Regular price
Sale price
$15.00 USD
Unit price
per
Sale
Sold out
Introducing our rejuvenating Aloe, Hibiscus, and Glycerin Hair Spray - the ultimate fusion of natural ingredients for luscious locks!


POWERED BY:
🌿 Aloe Vera Infusion:
Our hair spray is enriched with the soothing essence of Aloe Vera, known for its remarkable hydrating properties. Aloe Vera penetrates deep into your hair strands, providing a burst of moisture that revitalizes and strengthens from the inside out. Say goodbye to dry and brittle hair, as Aloe Vera brings back that coveted shine and resilience.

🌺 Hibiscus Blossom Extract:
Experience the vibrant power of Hibiscus! Our hair spray contains the invigorating essence of Hibiscus blossoms, celebrated for their ability to enhance hair health. Hibiscus aids in nourishing your hair follicles, promoting growth, and preventing premature graying. Revel in the delightful fragrance of Hibiscus as it leaves your hair smelling fresh and alluring.

💧 Glycerin Moisture Lock:
Glycerin is the secret behind our hair spray's long-lasting moisture. This natural humectant attracts and locks in moisture, ensuring your hair remains hydrated throughout the day. Bid farewell to frizz and hello to silky-smooth tresses, as Glycerin tames unruly hair and keeps it looking polished and sleek.

Key Benefits:
✨ Deeply hydrates and rejuvenates hair.
✨ Promotes hair growth and strength.
✨ Prevents premature graying.
✨ Controls frizz and flyaways.
✨ Adds a captivating Hibiscus fragrance.
✨ Suitable for all hair types.

Directions for Use:

Shake well before use.
Hold the bottle 8-10 inches away from your hair.
Spritz evenly onto damp or dry hair, focusing on mid-lengths and ends.
Style as desired.
Enjoy vibrant, healthy, and beautifully scented hair all day long.
Experience the magic of Aloe and Hibiscus in one delightful hair spray. Elevate your haircare routine and discover the natural beauty your hair deserves. Say hello to radiance, strength, and captivating fragrance with every spray!
Care Instructions

Store in a cool, dry place.
Share
View full details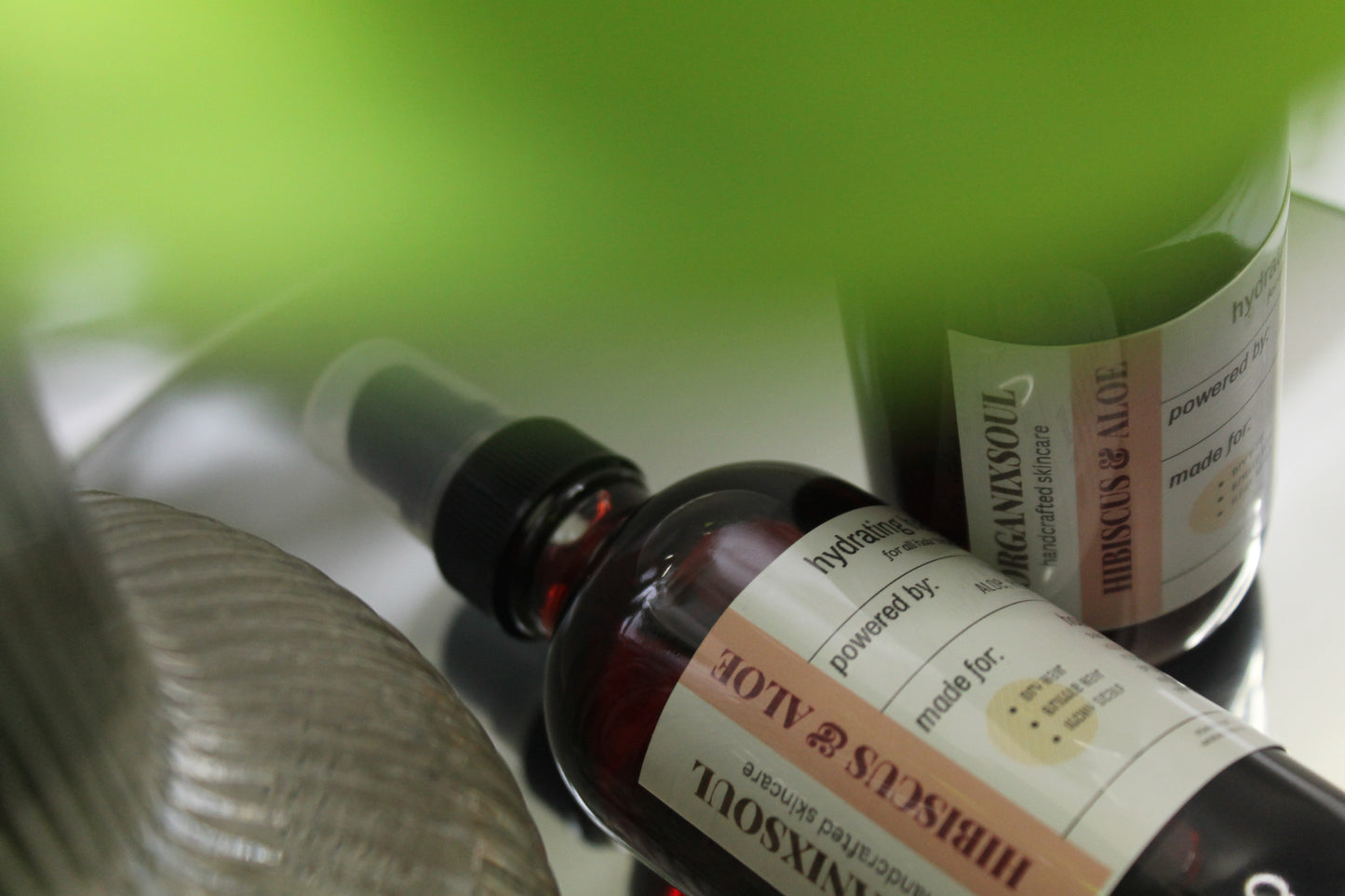 First Daisy 🌼 of Spring.
I was introduced to Organixsoul via my daughter. I was at a point where after growing my locs for just a little over 5/6 years when my daughter caught me, scissor in hand cutting out my locs. She yelled, grabbed my hand and asked what was I doing? Long story short, somewhere along the line my locs had become very dry, started breaking and I was tired of dealing with it but sparing you the theatrics, after a short lecture from daughter she suggested I try one of the products from a new natural line she'd been using. With the universe as my witness I did, and🖐️🙂I've been using their products ever since. I started using the hair mist and growth serum and although
It didn't happen overnight but like the first Daisy of spring my once brittle and broken locks began to spring back to life. (Before, during and after pictures soon to come.
When ORGANIXSOUL discounted the mist, my heart broke but guess who's back? My ORGANIXSOUL hair mist and growth serum🙌🥳. And let me mention, while my mist was on the discontinued list, run it back because protested I did. 😏And to make a long story short trust me when I tell you, the Liquid Shea-butters☺️is worth it!! Allow your skin to glow and use ORGANIXSOUL. (corny or not, it's the truth.) With the humblest of heart. Thank you🙏